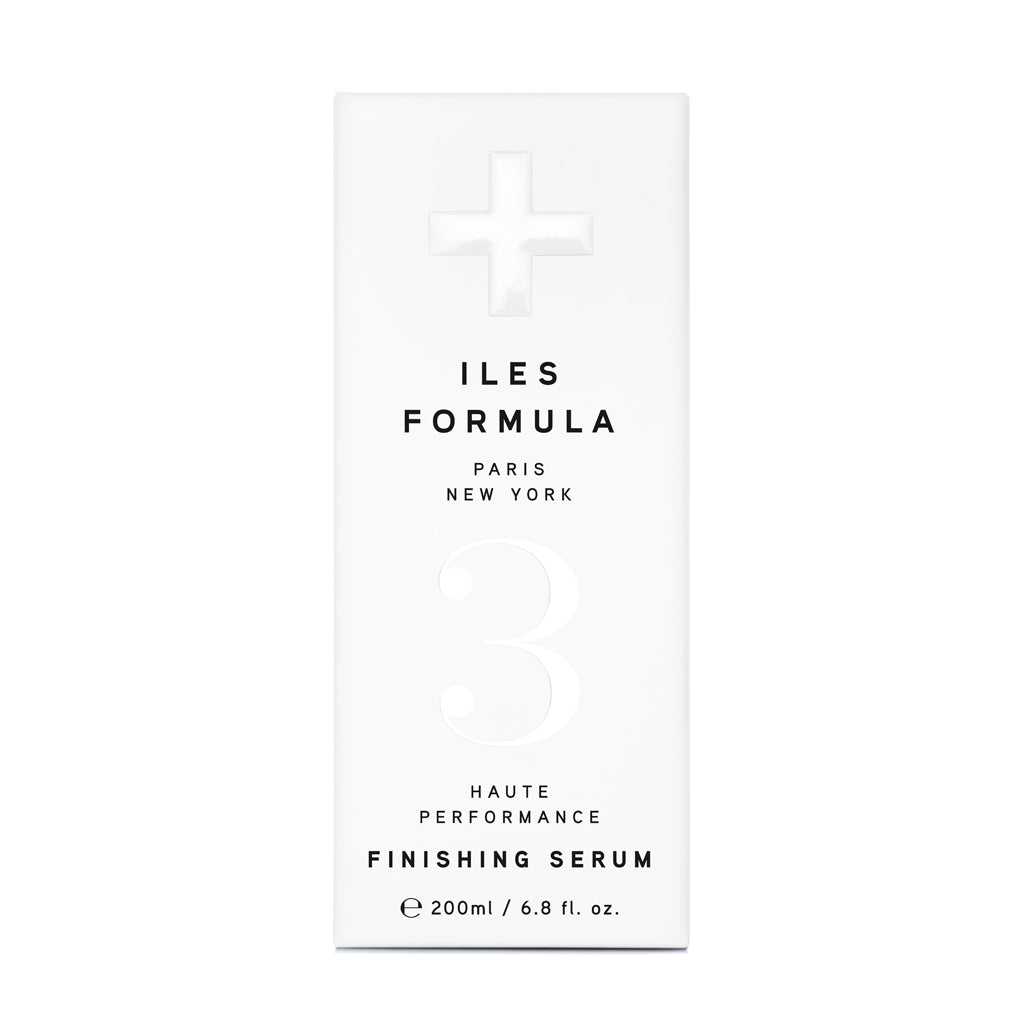 LAC + CO
Iles Formula Finishing Serum
There's no better way to protect ALL HAIR TYPES from environmental assaults than with my signature FINISHING SERUM. Hand-picked, custom blended ingredients including vitamins, nut oils, silk, and ceramide, feed hair with nothing but goodness without ever weighing it down. This paraben free formula creates a screen against UV rays, humidity and free radicals: strengthening hair + helping repair split ends + preventing color fade. Lightly scented with white flowers.
Directions for using Iles Formula Finishing Serum .
Finishing Serum will follow the Iles Formula conditioner.
This can be used before and/or after drying.
Apply a small amount throughout the mid length and ends of your hair before blow-drying or styling (do not rinse off).
Comb through for even distribution as it contains your UV protection, your color fade protection and protection against heated tools. A selection of the most precious cocktail of vitamins will keep your hair strong and healthy, without ever weighing the hair down.
One can apply small amounts daily to control humidity problems like frizz.
Fine lank hair: This serum with its base of silk will envelope your fine hair giving the feeling of
thicker voluptuous hair. We have found that customers who normally cleanse their hair every
day to create volume, go several days before shampooing, thanks to the serum.
Frizzy curly hair: For those who like to let their curl dry naturally.
We advise using a larger quantity of serum; comb through for even distribution and allow your
curl to dry naturally or with a diffuser. Do not disturb the hair until dry. The curl will dry with a
beautiful form and it will feel soft like silk and have much less frizz.
Thick coarse hair: Be sure to use enough product to accommodate your thick hair. The silk inside our serum will make your coarse hair very pliable and supple, aiding your hair to hold its shape once coiffed.
Color treated hair: It's a must for you to use our finishing serum. It contains color saver protection and UV filter protection.
Greasy oily hair: Once hair has dried, apply a small amount over the hair surface like a buffer. It is not necessary to apply before drying your hair, unless your hair is very thin and lank (please read notes on lank hair). This will be enough to add the protection your hair needs against harmful UV rays.
Combination hair, greasy roots dry ends: Concentrate the application of serum on the
problem dry areas more and less on the greasy areas .
Very dry damaged hair:  You can't live without this product ! It will transform your hair on each application to our sumptuous spun silk signature finish. Apply before and after drying and if necessary apply a small amount every day over the hair surface and hair ends.